---
Mount Pleasant Elementary is ranked on the Public School Review "Most Diverse Schools in the U.S." list. Congratulations!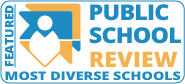 ---
2017/2018 Class Parents
Volunteer to be a Class Parent! Signup deadline 9/29/2017
We are looking for volunteers to assist the teachers in the classrooms throughout the year. Responsibilities of a class parent include assisting and providing support to the teachers, collecting and managing class funds, organizing and attending class parties, and coordinating teacher gifts. We are opening up the number of slots for volunteers so everyone has an opportunity to sign up. If there are more volunteers than a teacher thinks will be beneficial for his/her class, a random drawing will be held for the number of slots the teacher deems appropriate. For 5th grade, the class parents from each class will coordinate together for the entire grade. More information on this will be provided.
If you would like to assist the teachers but cannot commit to attending class parties, please reach out to the teacher directly as they almost always have many other opportunities that present themselves throughout the year. All class parents must be PTA members for insurance purposes so if you sign up for class parent you will need to join the PTA ($10 membership fee). If you do not see your class teacher listed, if the slots have filled up, or if you have any other questions, please feel free to reach out to me.
Tracey Brosnan tlcorreia@yahoo.com
---
---
Autumn Enrichment Program

Beginning Monday, September 18th at 7pm, you will be able to register your child for the Kids Club after school enrichment program at Mount Pleasant. Registration will remain open until the evening of Friday, September 22nd. You will find the Capture Point system, with which you will register, by visiting
bgcwo.org
, and locating the after school program link.
PLEASE NOTE that a notice went home with each child this past Friday, indicating that two of the courses we're offering have been modified to accommodate our older students. Those courses are Grossology, which is now being offered to grades 2-5, and Elementary Egypt, which is now being offered to grades K-5. All other courses remained unchanged.
---
We're selling KidStuff Coupon Books to raise money for our school! Books are $25 and we earn 50% profit! Save lots of $$$ with hundreds of coupons for shopping, activities, and food!

Your family earns 1 FREE Book for every 5 Books you Sell!

See all 30 editions at
kidstuffcouponbook.com
---
---
Membership Time

It's membership time. Please consider joining the PTA. $10 per person.
You can do it online at:
http://www.pt-avenue.com/join/
Or down the form and send it in your child's backpack.
---
---
---
JOIN THE PTA
If you haven't done so already JOIN THE PTA. Download the form
here
, fill it out and return it to school in your child's backpack.
---